HLT51015 Diploma of Paramedical Science
Location - Gold Coast

---
HLT51015 Diploma of Paramedical Science. Blended Learning program with home study and Classroom Sessions.
Don't wait to book a HLT51015 Diploma of Paramedical Science course, call now on 02 9232 1010 or contact our team.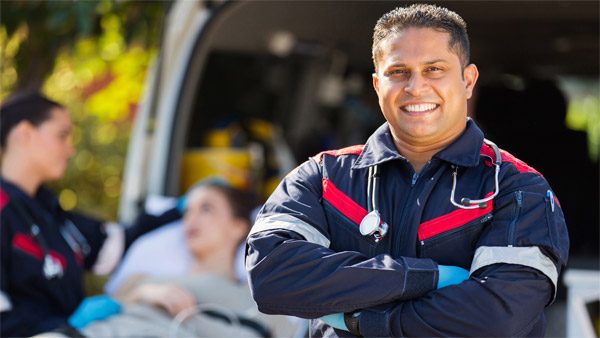 Course Details
The Diploma of Paramedical Science is one of the most sought-after qualifications if you are looking to develop a solid career in the pre-hospital emergency health care sector.
The bulk of the training is online, so you can learn in a flexible study environment that suits your current lifestyle and learning style.
Occupational titles for this role may include:
Paramedic/medic in mining, offshore, construction, manufacturing, hospitality, sports and tourism industries

Paramedic in the maritime industry

Remote area paramedic

Adventure and expedition paramedic

Emergency Response Officer at airports, cruise terminals, train stations, bus terminals, ferries and heavy haulage depots.

Emergency Services Officer at public events, outdoor and indoor concerts

Search and rescue volunteer with SES and other non-profit organisations

Event medic at sporting events such as Commonwealth Games, rugby league, equine, football, NFL, NRL etc
---
Training Program
Diploma level paramedics use advanced life support techniques and invasive therapies to sustain life and stabilise the patient until they can be delivered to hospital.
As training progresses, your skills and clinical knowledge will quickly develop by way of the practical application of what you have learned.
Along the way you will be required to complete written and scenario-based clinical workshop assessments. The medical techniques learned in this course are equivalent to that of an Advanced Life Support (ALS) Medic (Queensland classification).
---
Pre-requisites
This is a blended learning course requiring students to study in their own time before completing 2 x 5 day practical training session at the Gold Coast. All students are interviewed before acceptance into the program to ensure the program is suitable and that you will meet the language, literacy and numeracy requirements.
Distance learning can present a range of difficulties to learners and the following personal circumstances should be considered before enrolling into any distance learning course:
Your ability to study from home without structured classroom sessions
Your time management skills and commitment to self-study/self-motivation
Your access to a computer and internet connection
Your computer skills and ability to communicate with your course facilitator through an online forum (Skype, Google Hangouts, etc.)
Your language, literacy and numeracy skills to read, interpret course information and complete assessments
---
Certification
Upon successful completion of all units, each student will be issued with a Qualification for HLT51015 Diploma of Paramedical Science issued by Australian Paramedical College (RTOID 32513).
---
Course Enrolment
Diploma Paramedic Course Description (396 KB)
Student Handbook (593 KB)
To enquire about pricing, please contact us.
Course delivered in Gold Coast for public.
Enquire Now