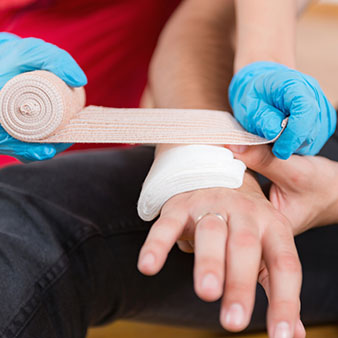 First Aid Online Course
Start today & learn at your own pace with same-day certificate of completion
Course price:
$40
Course length:
6 Hours
Start date:
Start today and learn online
Pre-requisites:
No pre-requisites
Suitable for:
All industries
First Aid Online Course Details
Swift and effective first aid intervention in the workplace can reduce the severity of injuries by up to 50% and significantly improve the chances of survival, emphasizing the crucial need for Aussie workplaces to be equipped with First Aid Training to ensure the well-being and safety of employees.
The First Aid Online Course equips students with the essential knowledge and skills to provide crucial first aid during emergencies. Whether you're a new parent, a traveller, a volunteer, or anyone else desiring to be prepared in emergency situations, this course will guide you on how to respond confidently and effectively.
Though this course is comprehensive, it may not be the primary certification for workplace first aid officers. Instead, it's best suited for individuals in specific industries or roles where online first aid certification is recognised, or for those who simply want to gain the skills to handle first aid emergencies.
In Australia and beyond, possessing basic first aid knowledge is invaluable. In the critical moments following an accident or medical emergency, the right first aid response can drastically affect outcomes, even potentially saving a life. Equip yourself with this life-saving knowledge and be the difference when it matters most.
Don't leave it to chance. Ensure you're prepared to provide first aid when it's needed. Join our First Aid Online Course today!
Key insights you'll gain from this online course include:
Emergency Response: Understand the importance of quick and appropriate actions during emergencies and how they can drastically alter outcomes.
Wound Management: Acquaint yourself with different types of wounds and their specific treatments, from cuts and abrasions to more severe lacerations and punctures.
Handling Special Situations: Dive into protocols for situations like heat strokes, electric shocks, and venomous bites, ensuring comprehensive preparedness for diverse scenarios.
Basic Life Support: From the ABCs (Airway, Breathing, Circulation) of first aid to mastering CPR, be equipped with foundational life-saving techniques.
First Aid Equipment: Get hands-on knowledge about the usage and maintenance of first aid equipment and kits, ensuring they're always ready when needed.
The online first aid course in non-accredited.
Training Program
This program is offered online through our learning management system. There are 2 components to this program:
Online learning
Online workbooks
Students should allow up to 6 Hours for the online learning to be completed. If you have completed First Aid Online training in the past, you may be able to complete the online program in a shorter time frame.
Book your First Aid Online Course Now
Get instant access to the First Aid Online course and start learning from the comfort of your home, office or on-the-go.
First Aid Online Requirements
Our First Aid Online course enables you to gain the skills and certification you need fast. The course content and learning management system is industry-leading, ensuring you have a great online experience.
To complete your online course you will need the following resources -
PC or Mac Computer, Tablet, iPad, iPhone or Android phone
Internet connection
Internet browser (see below)
Speakers or headphones
Once you have enrolled we supply you with access details to login to your learner portal so you can start straight away and have 3 months to finish the course.
The First Aid Online course is a mixture of interactive modules, multiple choice questions and videos. You don't have to complete the course all at once, and can pause it so you can pick up where you left off later. Once you've successfully completed your course, you will be emailed your Certificate of Completion straight away.
Windows and Mac Computers, iPads, Tablets, Android and iPhones can all be used to undertake online courses.
On computers and tablets, the latest version of Chrome, Firefox or Safari is recommended. Microsoft Edge is not currently supported.
On iPhone the system needs to be iOS11 or higher and we recommend using Safari.
On Android phone we recommend using Chrome.
First Aid Online Pre-requisites
There are no pre-requisites for completing this course and students do not require a USI number.
First Aid Online Assessment
Students will be assessed through the use of online workbooks to confirm knowledge has been achieved and are provided unlimited attempts to complete the First Aid Online course.
This First Aid Online course combines plain English, videos, photos, and questioning to ensure all learners can have the best possible chance at comprehending the required knowledge and skills.
Please Note: if you require accredited training or a First Aid Statement of Attainment for the workplace, you should check with your employer or industry body to confirm First Aid Online is accepted prior to enrolment. We do not offer refunds to students who did not realise they needed an accredited First Aid certificate.
First Aid Certification
This course meets the knowledge requirements of the First Aid qualification but has no face to face component or practical observation assessment.
Once successfully completed, learners will be issued with a certificate of completion for First Aid. Certificates are emailed to students however hard a copy is available for an additional fee.
Students will be issued with a -

Certificate of completion for First Aid Online
Certificates are issued by TCP Training Pty Ltd (RTO ID 91118).
Please be aware Students are NOT completing a nationally recognised unit of competency and will NOT be provided with a Statement of Attainment after completing this course.
Course Enrolment
The cost for the First Aid Online course is $40.
View the First Aid Refund Policy.

If organising staff training, we can facilitate the First Aid Online course for groups.
Book Now
First Aid Course FAQs
Once you've successfully completed your course, you will be automatically emailed your Certificate of Completion.

How do you get access to the course material? Once you log onto your learner portal, your course will be there. All you need to do is click START.

Do you need to download any software? No, just log in with your desktop or iPhone and you can start it straight away!

When does access expire? You will need to complete the course within 3 months of the original booking date.

Can you use Windows, Mac, Android and iPhone? YES, you can use all software.

Are there any tests and what type of tests are they? Within the course, there is interactive modules, multiple choice and videos.

Are there any pre-requisites? NO

How do I get my certificate? Once you've successfully completed your course, you will be automatically emailed your Certificate of Completion.

Nothing! All you need is a computer or laptop. The latest versions of Chrome or Safari are recommend.

Our online courses enable you to gain the skills and certification you need anywhere - even in the comfort of your own home. Our course content and learning management system is industry-leading, enabling you to achieve best results first time.
General Course FAQs
Your booking is confirmed once we receive full payment of course fees. Unfortunately there are rare occasions where the course will sell out prior to you finalising payment. In this situation a member of our customer service team will get in contact to organise an alternate training date.

Payment can be made at the time of booking using either a credit card, EFTPOS or cash. Invoices and acceptance of company cheques is by prior arrangement only.

Unfortunately we cannot offer this service, full payment of course fees are required at the time of booking. The good news is that we try to always offer value for money and keep course fees affordable, so you know that you are always getting good value, especially with our package deals which offer reduced prices!

We can book multiple people at once and create company invoices, even for individual students. Please just email our bookings team – bookings@tcptraining.com.

Please include the following information; the course, location and date you wish to enroll them in, full names and unique emails of those who will attend and the company's legal name, address, ABN and contact.

Most courses will permit a student to bring a friend to interpret for them during training. If you do need assistance, we ask that you contact first before booking your course so we can advise if there are any restrictions. For example, Forklift training requires students to complete all assessments in English.

If the course permits, you may bring a friend along to the course or, alternatively, you can phone the National Translation service to book an interpreter. Visit the Immigration website for more information about help with translating.

Following NSW Health Guidelines, TCP Training implements Policies and Procedures to help keep our community safe, for more information click here.

What you need to do is register with your local Job Network Agent. Your Employment Consultant will make the booking with us on your behalf and arrange payment with us directly. Unfortunately Centrelink does not pay directly.
Student Reviews of Courses
Book your First Aid Online Course Now
Get instant access to the First Aid Online course and start learning from the comfort of your home, office or on-the-go.