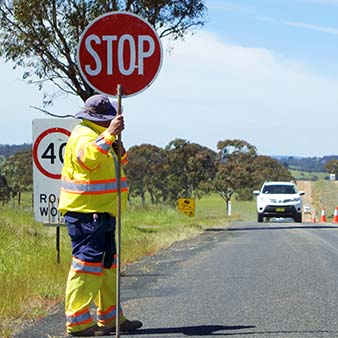 Traffic Control Work Training Combo Sydney
RIISS00055 Traffic Management Implementer & RIISS00054 Traffic Controller
Training locations:
Olympic Park
Course name:
Traffic Control Work Training Combo also known as Blue Card, Yellow Card, Traffic Controller, Implement Traffic Control Plans, Prepare A Work Zone Traffic Management Plan
Course price:
$899
Course length:
5 days
Certificate valid:
SafeWork Statement of Completion valid 90 Days. SafeWork NSW TCWT Card (TCR & IMP) - Perpetual
Training days:
Monday & Tuesday theory, Wednesday practical, Thursday & Friday assessment
Pre-requisites:
Students must have White Card, PPE and be 17 years old
Identity Requirements (Mandatory)
Students must bring evidence of identity for 100 points in the original and physical document form (see below). We CANNOT accept any photos, scans or photocopies. Our Traffic Management Implementer and Traffic Controller Course is licenced though SafeWork NSW and we must deliver the program as per their requirements:
Within the 100 points, applicants must show the following:

Photo
Date of Birth
Signature
Current Residential Address
Download a copy of the Evidence of Identity examples.
Primary ID (100 Points)

Passport (Current or expired within last 2 years but not cancelled)

70pts

Full ORIGINAL Australian Birth Certificate or Birth Card

70pts

Australian Citizenship Certificate.

70pts

A combination of secondary documents is allowed to make up 100 points however if more than one credit or ATM cards, or bank statements are used they MUST be from different financial institutions. MUST BE VALID ORIGINAL DOCUMENT / CARD ISSUED IN AUSTRALIA.

Secondary ID (40 Points)

Current Australian Drivers Licence

40pts

Current Australian Boat Operator's Photo Licence

40pts

Current Australian Firearms Licence

40pts

Current Australian State or Territory Proof of Age/Photo Card

40pts

Australian Defence or Police photo identification card

40pts

Secondary ID (25 Points)

Medicare Card (must be physical card)

25pts

Bank ATM or Credit Card

25pts

Centrelink Card (must be physical card)

25pts

Motor Vehicle Registration Papers

25pts

Motor Vehicle Insurance Certificate

25pts

Department of Veterans Affairs Card

25pts

Property (Council) Rates Notice

25pts

Property Lease Agreement

25pts

Home Insurance Papers

25pts

Utility Bill; eg: Electrical, Water, Gas

25pts

Bank Statement/s

25pts
Traffic Control Work Training Combo Pre-requisites
Students must have completed the White Card course to work on a construction site.
Students must wear appropriate PPE (students can be turned away for failure to wear appropriate PPE).
Students must be 17 years old at the time of sitting the course.
Students will need a USI number to complete the course. To apply for a USI or find your number, visit https://www.usi.gov.au/.
Book your Traffic Control Work Training Combo Course Now
Traffic Control Work Training Combo Course Details
According to the Australian Bureau of Statistics (ABS), in the year ending June 2020 there were 1,157 work-related injuries in the road and rail transport industry. This highlights the importance of proper traffic control measures and training to ensure the safety of workers in this industry.
The Traffic Controller and Traffic Management Implementer Course are the two most common courses students complete to gain employment in the Traffic Management industry.
To be able to work on the road in a Traffic Control capacity to operate a Stop/Slow Bat, you will need a minimum of a Traffic Controller License. The license for Traffic Management Implementer allows you to set up and prepare a site as opposed to only using the Stop/Slow Bat. By completing the Traffic Control Working Training Course (Combo) you can increase your chances of gaining employment.
Training Program
The training schedule is as per the below:

Step 1 - Attend theory 8:30am-17:30pm (Monday and Tuesday)
Step 2 - Attend practical training 8:30am-17:30pm (Wednesday)
Step 3 - Attend practical assessment at Homebush or live Worksite 7:30am-17:30pm (Thursday & Friday) must be completed within 90 days from training day.

Students must wear appropriate PPE (students can be turned away for failure to wear appropriate PPE) including Safety Boots (joggers/sneakers are unacceptable), Long sleeve shirt, Long pants (tights are unacceptable), Sun and rain protection as required.
A Statement of Training (SOT) must be issued to students if they satisfactorily complete all assessments, demonstrating competency in the program.
Due to Traffic Controller and Traffic Management Implementer Course being a Government Initiative, students will have to complete ALL training hours required. Insufficient ID and being late will automatically deem the student ineligible to start the course on that date. Students will need to contact our office to rebook, paying 50% of the course cost, if this is the case.
Traffic Control Work Training Combo Assessment
Within the 5 days of the accredited course, students will receive lunch breaks (lunch not provided). Students are offered multiple opportunities to demonstrate their knowledge and skills throughout the course to deem them competency across the unit. We will provide all students with reading materials and assessment packs, including instructions detailing the evidence and documents each student must submit to complete the training program.
There are 4 components to this Traffic Control program:
Theory training in the classroom
Take home self paced learning and assessment workbook
Practical training in a simulated work environment
Assessment conducted in a real worksite - Students will need 2 days practical assessments on a live site which includes sign off before they can book the Implement Traffic Control Plans portion of their assessment. You can continue from your training day or rebook for another Thursday and Friday to complete practical assessment at Homebush Bay (Sydney Olympic Park) at a live worksite.
Homebush assessment is conducted in partnership with ACES Group, trading as Affirm Training (RTO 90024). Full details about assessments are included in the Assessment PDF. To book or change you assessment, please contact us on 02 9232 1010. We strongly recommend that all students keep a copy of the documentation they complete and collect for their assessment submissions
It is important to note that this Traffic Control Course requires a level of physical ability to complete practical assessments. If your health or fitness restricts you from performing physical activities associated with this program, you will not be able to complete this Traffic Control Course.
TCP Training is not registered with CRICOS, as such we are unable to conduct training and assessment for those with study restrictions on their visa. This includes but is not limited to the International Student Visa (subclass 500), you can check the entitlements of your visa here.
This Traffic Control Work Training Combo course combines plain English, videos, photos, and questioning to ensure all learners can have the best possible chance at comprehending the required knowledge and skills.
Assessments MUST be completed in English and with no further assistance. If you believe you will need assistance due to your Language, Literacy or Numeracy skills, please contact our office on 02 9232 1010 to discuss your training needs.
If a student is not successful in completing all assessments satisfactorily, they will need to rebook the Traffic Control Work Training Combo course at a $50 NYC Fee.
Traffic Control Work Training Combo Certification
Once student is deemed competent, learners will be issued SafeWork NSW Statement of Completion (SOC) which allows you to take this to a real worksite and complete the workplace assessment and work under supervision within its period of validity. The Statement of Completion is valid for 90 days. Contact us within 60 days of training to complete your assessment as no further extension can be provided.
After successful completion of the practical assessment, students will be issued with Statements of Attainment which are nationally recognised certificates for the following units:
RIIWHS201D - Work safely and follow WHS policies and procedures
RIICOM201D - Communicate in the workplace
RIIWHS205E - Control traffic with stop/slow bat
RIIWHS206 - Control traffic with portable traffic control devices and temporary traffic signs
RIIRIS301E - Apply risk management process
RIIWHS302E - Implement traffic management plan
RIIWHS303 - Position, set-up and program portable traffic control devices
NOTE: Licences take up to 4 weeks to arrive in the post from SafeWork NSW. Please consider this as your Statement of Completion may expire before the certificate is issued.
Course Enrolment
This course is delivered by Affirm Training, with certificates issued by Affirm Training (RTOID:90024).
The cost for the Traffic Control Work Training Combo course is $899.
View the Traffic Control Work Training Combo Refund Policy.
Courses are subject to a $10 non-refundable enrolment fee.
TCP Training is not registered with CRICOS however all one day courses are excluded from CRICOS.
If organising staff training or onsite training, we can facilitate the Traffic Control Work Training Combo course nationally. You can also request to enrol staff using a company invoice.
Book Now
Traffic Controller FAQs
Participants must have white card prior the attending training.

TCP Training is not registered with CRICOS however, the Traffic Controller Combo course is subject to CRICOS requirements. Please note, student Visa's cannot complete the combo course. For other Visa's, we recommend contacting Affrim training to check, or searching for a CRICOS registered RTO -https://cricos.education.gov.au

Once a student completes their final practical assessment successfully, the SafeWork NSW TCWT Card can take up to 6 weeks to arrive in the post from SafeWork NSW.

A Statement of Completion (SOC) is valid for 90 days. This allows individuals to work & gain experience within this time period. Note your SOC must be in date to undertake the practical assessment on a live worksite.

If your SOC has passed its 90-day period of validity, you can no longer use this for work purposes and finalise your assessment. Please contact SafeWork NSW via email - tacs@safework.nsw.gov.au.

To consider an SOC extension for each applicant the request must be sent from the applicant. The applicant should provide the following details:

Fulle Name
Date of Birth
Screen shot which shows the course, applicant details, the RTO and expiry date
Detail what prevented the applicant completing the assessments and if approval is granted what action will they take to complete the assessment within 30 days

The SafeWork NSW TCWT Card is deemed as a Perpetual Licence. For more information related to the SafeWork NSW TCWT Card, please visit SafeWork NSW Website.

Please contact SafeWork NSW on 13 10 50 or email licensing@safework.nsw.gov.au.

Traffic Controllers gain the skills & knowledge to stop/direct road users using a stop/slow bat and understand stopping sight distances. We offer the Combo course which can increase your prospects of employment.

Individuals will gain the ability to set up and close down traffic control devices & signage according to a nominated TCGS/TCP, to WHS and legislative requirements. This training is suited to those who have Traffic Controller experience and wish to further their career within the traffic control/management industry.
General Course FAQs
Your booking is confirmed once we receive full payment of course fees. Unfortunately there are rare occasions where the course will sell out prior to you finalising payment. In this situation a member of our customer service team will get in contact to organise an alternate training date.

Payment can be made at the time of booking using either a credit card, EFTPOS or cash. Invoices and acceptance of company cheques is by prior arrangement only.

Unfortunately we cannot offer this service, full payment of course fees are required at the time of booking. The good news is that we try to always offer value for money and keep course fees affordable, so you know that you are always getting good value, especially with our package deals which offer reduced prices!

We can book multiple people at once and create company invoices, even for individual students. Please just email our bookings team – bookings@tcptraining.com.

Please include the following information; the course, location and date you wish to enroll them in, full names and unique emails of those who will attend and the company's legal name, address, ABN and contact.

Most courses will permit a student to bring a friend to interpret for them during training. If you do need assistance, we ask that you contact first before booking your course so we can advise if there are any restrictions. For example, Forklift training requires students to complete all assessments in English.

If the course permits, you may bring a friend along to the course or, alternatively, you can phone the National Translation service to book an interpreter. Visit the Immigration website for more information about help with translating.

Following NSW Health Guidelines, TCP Training implements Policies and Procedures to help keep our community safe, for more information click here.

What you need to do is register with your local Job Network Agent. Your Employment Consultant will make the booking with us on your behalf and arrange payment with us directly. Unfortunately Centrelink does not pay directly.
Student Reviews of Courses