Silica Awareness
Training Online
---
Silica Awareness training online is $49. Average completion time is 30 minutes.
Don't wait to book the Silica Awareness training online, call now on 02 9232 1010 or contact our team.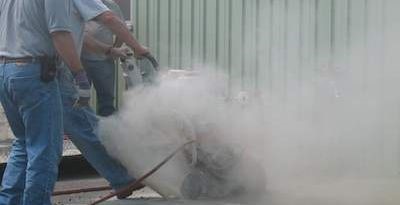 Course Details
The Silica Awareness course is designed for all workers and employers who may be exposed to Silica Dust. This course will teach you about what Silica is, the appropriate health and safety laws of Silica where it is found, and the risks associated in the workplace.
During the interactive Silica Awareness course, participants will learn about:
What Silica is, the types of Silica and the size.
The types of exposure to Silica.
Health effects and monitoring of Silica.
WHS Control measures.
Average completion time for this online course is 30 minutes.
**Please note that this is not a nationally accredited course**
---
Key Facts
100% Online Course - Complete your course quickly and easily online, no need to visit a classroom.
Same Day Certificate - Upon completion your certificate will be sent to you.
Learn at your own pace - We keep a record of how far you've progressed with your course, so you can complete it whenever you prefer.
---
System Requirements
For non-webcam courses any browser other than Internet Explorer or Edge.
For any webcam courses we recommend Google Chrome or Firefox.
On iPhone the system update needs to be above IOS11. Chrome for Android and Safari for iPhones.
Who is this Course for?
This Silica Awareness training online is for anyone who may be exposed to Silica.
---
Certification
Once successfully completed, learners will be issued with a Certificate of Completion for the online Silica Awareness course. Certificates are issued by TCP Training Pty Ltd (RTO ID 91118). Certificates are emailed to students.
PLEASE BE AWARE Students are NOT completing a nationally recognised unit of competency. Students will NOT be issued a Statement of Attainment for completing the course.
---
Online FAQs
Once you've successfully completed your course, you will be automatically emailed your Certificate of Completion.

How do you get access to the course material? Once you log onto your learner portal, your course will be there. All you need to do is click START.

Do you need to download any software? No, just log in with your desktop or iPhone and you can start it straight away!

When does access expire? You will need to complete the course within 3 months of the original booking date.

Can you use Windows, Mac, Android and iPhone? YES, you can use all software.

Are there any tests and what type of tests are they? Within the course, there is interactive modules, multiple choice and videos.

Are there any pre-requisites? NO

How do I get my certificate? Once you've successfully completed your course, you will be automatically emailed your Certificate of Completion.

Nothing! All you need is a computer or laptop. The latest versions of Chrome or Safari are recommend.

Our online courses enable you to gain the skills and certification you need anywhere - even in the comfort of your own home. Our course content and learning management system is industry-leading, enabling you to achieve best results first time.
---
General FAQs
What you need to do is register with your local Job Network Agent. Your Employment Consultant will make the booking with us on your behalf and arrange payment with us directly. Unfortunately Centrelink does not pay directly.

Unfortunately we cannot offer this service, full payment of course fees are required at the time of booking. The good news is that we try to always offer value for money and keep course fees affordable, so you know that you are always getting good value, especially with our package deals which offer reduced prices!

Most courses will permit a student to bring a friend to interpret for them during training. If you do need assistance, we ask that you contact first before booking your course so we can advise if there are any restrictions. For example, Forklift training requires students to complete all assessments in English.

If the course permits, you may bring a friend along to the course or, alternatively, you can phone the National Translation service to book an interpreter. Visit the Immigration website for more information about help with translating.

Payment can be made at the time of booking using either a credit card, EFTPOS or cash. Invoices and acceptance of company cheques is by prior arrangement only.

Your booking is confirmed once we receive full payment of course fees. Unfortunately there are rare occasions where the course will sell out prior to you finalising payment. In this situation a member of our customer service team will get in contact to organise an alternate training date.
---
Course Enrolment
The cost for this Silica Awareness training online is $49.