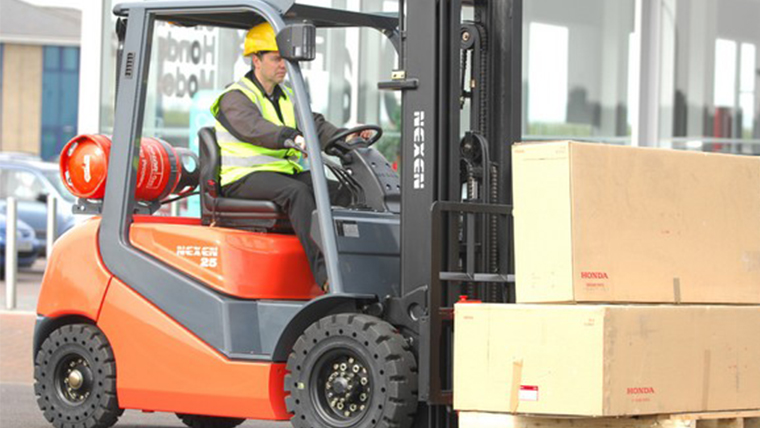 Driving a forklift is a different experience to driving a car, or any other vehicle you may be used to driving:
The back wheels of the forklift are used to steer the vehicle
The centre of gravity of a forklift is higher than a car so the weight is distributed differently.
When you take these two things in to account, it means that when a sharp turn is combined with too much speed, you run the risk of a rollover accident.
It is not uncommon for forklifts to be operated on wet or smooth surfaces and these can be a bit on the slippery side which can also lead to accidents happening if the driver, and others around, do not take due care and attention when the forklift is in operation.
When driving a forklift, it is important that you:
Fasten your seatbelts at all times.
Wear the correct PPE
Never let anyone ride on the forks of the lift – for any reason!
Travel at a safe speed
Keep a safe distance between you and other forklifts
Never pass other forklifts at intersections or blind spots
Slow down and sound the horn when approaching blind corners.
Many drivers are injured when they are run over by their own forklift. (Don't laugh! It's more common than you think!) It happens when an operator leaves their vehicle before it has completely stopped. This is easily avoided by making sure you do the following:
When you leave your vehicle:
Make sure it has come to a complete stop
Lower the forks to the ground
Set the parking break
When you leave the vehicle unattended*:
Set the parking break
Bring the mast to the vertical position
Lower the forks to the ground
Turn the Forklift off
Remove the keys
*Your vehicle is classed as unattended when you travel more than 25ft away or if you can no longer see the vehicle.
Lifting and Transporting Loads
When you are lifting and transporting loads with a forklift, it is important to know the vehicle's limitations. For this reason, the maximum load capacity and load centre must be posted on each forklift.
Each load should be stacked properly and the weight of the load needs to be distributed evenly. If your load is too heavy, the back of the Forklift will raise which changes the centre of gravity and can cause serious injury and potential damage to the forklift.
When preparing to load or unload a truck or trailer, it is important to make sure that they are secured in a fixed position. This is not only good safety practice but also a legal requirement.
Don't drive in or out of trucks or trailers unless the brakes are set and the wheels are blocked or restrained – this makes them less likely to creep away from the loading dock, which can cause injury.