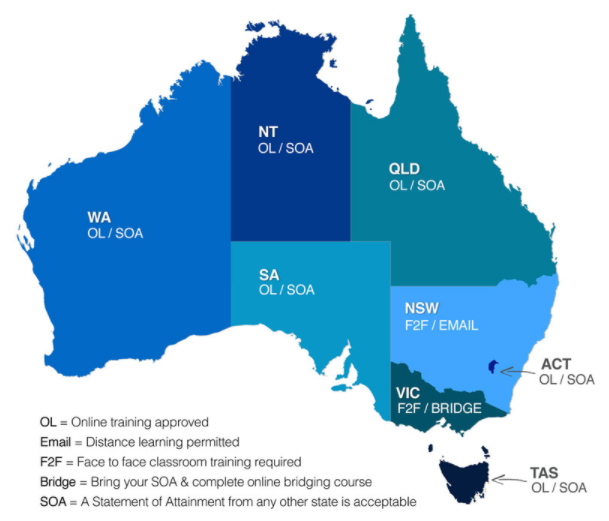 What is RSA?
It is mandatory in Australia to undergo Responsible Service of Alcohol (RSA) training and get certified if you will be working in any licensed establishment that offers, serves, sells or supplies alcohol (e.g. pub, restaurant, nightclub). You are not allowed to work in the liquor industry without having undergone and successfully completed your RSA training.

You can do an RSA course online, via correspondence or in a classroom. Which option is right for you depends on the state you will be working in and your preference for learning.

What will RSA training teach you?

Completing RSA training will give you insight in the following topics:

facts about alcohol

blood alcohol content

how to serve responsible

handling customers who have been affected by alcohol

identifying customers who should get cut off from further alcohol consumption

problems associated with excessive consumption

alcohol and the law

the question who is responsible for RSA

improving the atmosphere in the premises

After completing the RSA course, you will understand legal responsibilities associated with the service of alcohol and will be ready and able to serve and sell liquor in licensed premises.

What type of jobs do you need your RSA certification for?

Bartender

Cocktail Bartender

Steward / stewardess

Cellar hand

Glass collector

Bottle shop attendant

Waiting staff in restaurant

Event staff

What are the RSA requirements per Australian State?
Every Australian state / territory has its own liquor licensing body and in some cases its own RSA accreditation.

The image for this blog provides a handy overview of the options available for your RSA certification around Australia.

As you can see Queensland, Western Australia, South Australia, ACT, Tasmania and Northern Territory accept online delivery of the National RSA course.

Victoria does not currently recognise online as a valid medium for this type of training. Students can do a simple bridging course to obtain RSA certification for this state if they bring their Statement of Attainment (SOA) from any other state.

In Sydney and the rest of New South Wales, it is possible to do you RSA via email correspondence. RSA correspondence is a great solution for students who cannot get to a training venue and/or find a suited time in the course schedule. Students in this situation can use an online learning system, download necessary RSA documents, record videos, study remotely and complete compulsory assessment activities. Once all is completed, students submit their work for an inspector to go over and mark.

Another way of gaining your NSW RSA certification is face-to-face, through a classroom course. Once the course is successfully completed, students will receive a Statement of Attainment for SITHFAB002 Provide responsible service of alcohol. This Unit of Competency is Nationally Recognised Training.

Where can you get RSA certified?

You can do your RSA course with an approved Registered Training Organisation (RTO). TCP Training is a well-established RTO and has training centres conveniently located in Sydney CBD, Dee Why (Sydney Northern Beaches) and Granville (Sydney West) so if you are looking to do your RSA online course, RSA correspondence course or classroom RSA course in Sydney, book with TCP Training today!